Twin Harbours Tours

Individually crafted sightseeing tours & transfers from Auckland to The Coromandel.
Coromandel Peninsula Tours
Our Coromanel tour takes you east from Auckland to Tairua for excellent coastal viewing. The tour continues on to Hot Water Beach where you can dig your own hot pool in the sand. We can visit Cathedral Cove, an unspoiled marine reserve with a beautiful rock archway connecting the land to the beach.
As you're in charge of what you want and see in the Coromandel we can customize your tour to stop at beaches, native forests, art galleries and cafes along the way giving you unlimited options and sightseeing opportunities on your tour before returning to Auckland.
Read Our 5 Star Tour Ratings On TripAdvisor

COROMANDEL PENINSUAL CUSTOM SIGHTSEEING TOUR ATTRACTIONS
Whilst we keep our little gems secret here are some of the main attractions in and around the Coromandel Peninsual that we can include in your individually crafted tour.
Cathedral Cove
No tour is complete without seeing Cathedral Cove as it's is arguably one of the most picturesque spots in The Coromandel and attracts people all year round.  From the beautiful Hahei Beach on The Coromandel you can walk to Cathedral Cove where a one hour walking track leads along the cliff top and then descends to the Cove.
Here a gigantic arched cavern passes through a white rock headland to join two secluded coves. The cathedral-like arch gives the whole area an air of grandeur. The beach is sandy with shady pohutukawa trees along the foreshore – a perfect place for a picnic, swim or simply admire the breath taking beauty.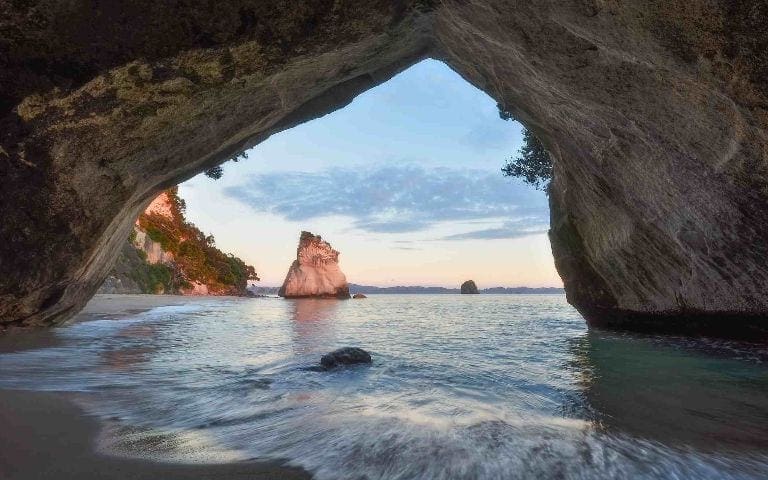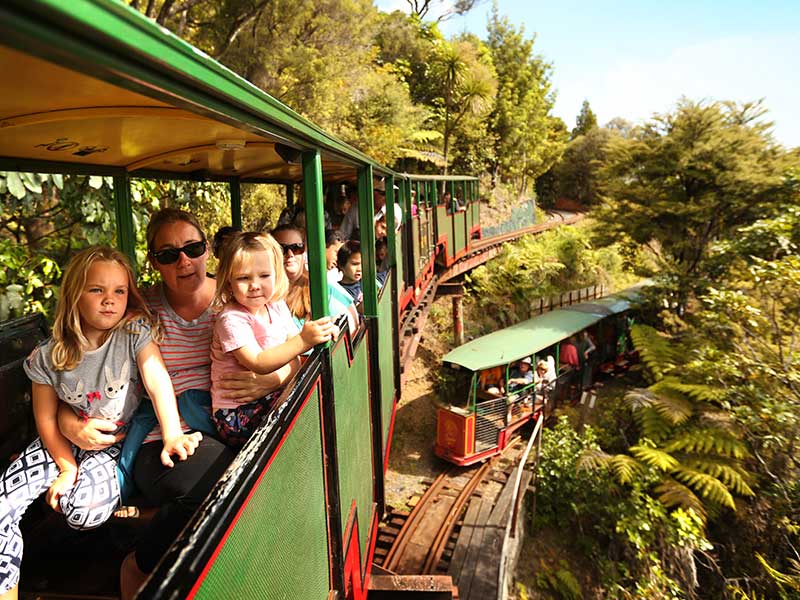 Driving Creek Railway
The Coromandel is famous for its mining and no tour to the the Coromandel is is complete without a visit to the The Driving Creek Railway which is New Zealand's only narrow-gauge mountain railway.  It climbs 2.7km from the Base Station at 55 metres above sea level to EyeFull Tower at 167 metres above sea level. With an average gradient of 1-in-24.1 (1 vertical metre for every 24.1 metre of length) the Driving Creek Railway is New Zealand's steepest railway. 
Unlike most other tourist railways, this railway is newly built rather than being an old line that has been restored. With glow worm BBQ tours and an onsite pottery factory there is plenty to see and do here.
Hot Water Beach
A visit to Hot Water Beach is a must do for a tour of the Coromandel.  Either side of low tide visitors flock to Hot Water Beach with to find hot water bubbling through the golden sand. Armed with spades, families, kids, couples and tourists can be seen digging their own spa pool in the sand and relaxing in the natural springs.
Often rated as one of the world's most renowned beaches – this is one Coromandel tour experience that should be on your bucket list. A truly unique Kiwi experience that every visitor to New Zealand should experience.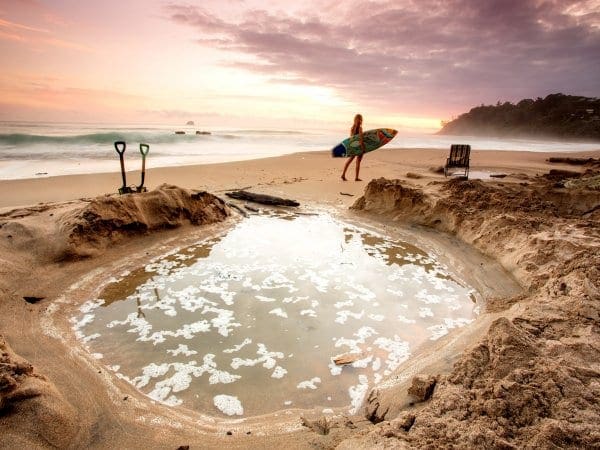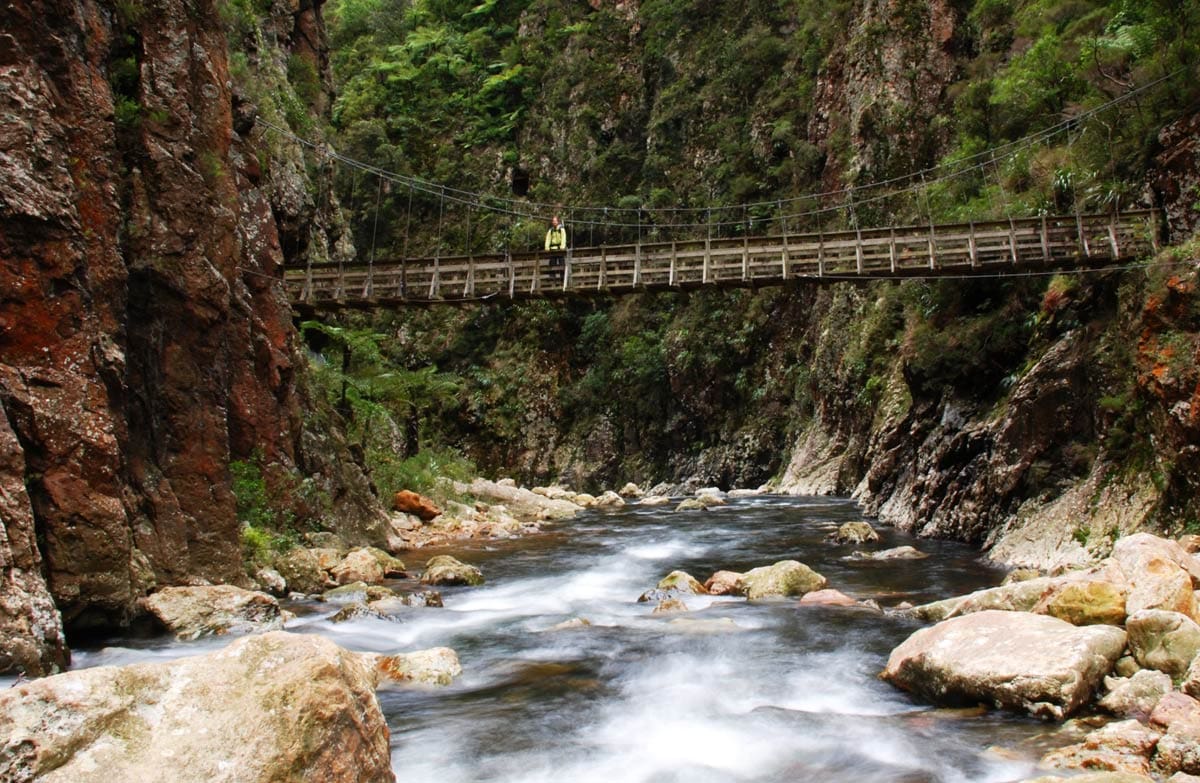 Karangahake Gorge
The Coromandel region is known for its mining history but the best place to embrace it is the Karangahake Gorge. When you drive along the rivers edge with steep cliffs either side you will simple want to stop and take in the awe inspiring scenary.
The historic walking track along the rivers edge in the gorge has swing bridges, tunnels, waterfalls, railways, rusty mining equipment.  In otherwords it has it all and a must stop location on any Coromandel tour.
Ngatea Water Gardens
Located between Auckland and The Coromandel your tour can include a stop off to the Ngate Water Gardens.  With water fountains made out of recycled materials and a whole lot of humour make for a surprisingly fun and unexpected visit.
The picturesque 5 acre property has funny signs and scenes throughout, and is complete with giftshop, playground, and function centre for weddings and other occasions. The wheelchair friendly path through the gardens will take you over bridges, past water lily ponds, waterfalls, waterwheels and magical fountains. You will be kept entertained by our friendly hand fed birds and fish, plus our fascinating turtles, said to be the oldest in New Zealand.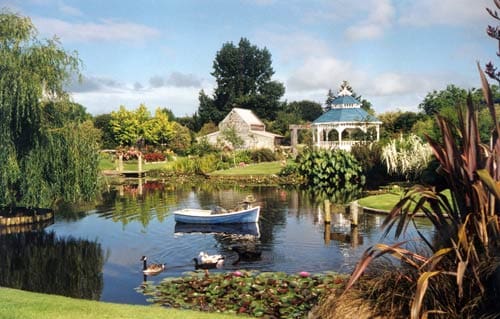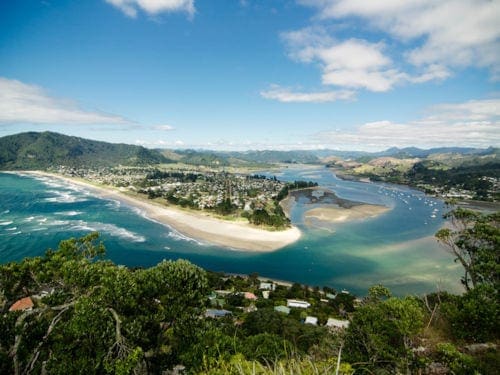 Tairua Coast
Tairua is a beautiful location with incredible scenic views to add to your Coromandel Tour.  With views out to the twin peaks of volcanic Mount Paku and the jagged Aldermen Islands, Tairua is scenic and stunning. Inside the headland, Tairua's harbour offers sheltered waters for sailing, kayaking and windsurfing. The ocean beach is ideal for body boarding, surfing and beach fishing – or you can simply relax on the sand.
There are several interesting walks within the Tairua township, including a climb to the summit of Paku. To the north of the town, the 10-minute Twin Kauri Walk leads into a reserve of tree ferns and kauri trees. Another track, along Te Karo Bay, takes you to the memorial for a sailor who drowned in the surf in 1842.
Book your tour in three easy steps
1. Fill out the form giving us as much detail about the customized tour you want to experience.
2. Once we've got all the information we'll send you a customized tour itinerary and quote.
3. Pay half on confirmation of tour and half on completion of the tour so get ready to be dazzled!